Curriculum Development
Each member country has its own approach to teaching Travel & Tourism, and the GTTP works with education ministries to ensure compliance with country standards. In some countries, the GTTP program is for students in the final year of secondary school, and in others the GTTP is focused on students in grade 10, 11 and/or 12. Each country uses its own tourism education requirements. In some countries, schools use a GTTP-developed curriculum as their official curriculum while other use it to supplement their own courses. (For more information, contact the Director for the country you are interested in.)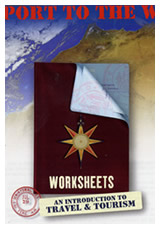 To ensure students have a global perspective, the GTTP developed an introductory curriculum, PASSPORT TO THE WORLD: An Introduction to Travel & Tourism. It comes with three modules: a module for use by instructors; a module for use by students, which includes a guide to information resources; and a module with a comprehensive schedule of student activities. It is available in English, Russian, Magyar, Portuguese, French and Spanish. It is being translated into two versions of Chinese.
Click here to see the Introduction to the Instructor's Guide which includes the GTTP's approach to teaching Travel & Tourism, an explanation of the PASSPORT curriculum and an outline of the syllabus.
PASSPORT was developed by GTTP country directors and teachers. The course provides students with a basic understanding of tourism as a global industry. The curriculum is "teacher friendly" and is designed in such a way that basic concepts and information are combined with activities that focus the students on their own community or region.
In some countries, like Russia, PASSPORT TO THE WORLD, is the officially-approved introductory curriculum. In Ireland, PASSPORT TO THE WORLD was incorporated into Ireland's new national curriculum. In other member countries, like Hungary and Canada, PASSPORT TO THE WORLD is used to supplement existing curriculum.  In Brazil PASSPORT TO THE WORLD was adopted by the federal government of Brazil as part of its drive to expand tourism education in state and municipal schools throughout Brazil. In Kenya PASSPORT TO THE WORLD was approved by the education ministry and is used to introduce students to this subject. For countries that are just starting to offer this subject, PASSPORT TO THE WORLD can be used as the introductory curriculum and provides a basis for understanding the industry and for going on to further study.
PASSPORT TO SUSTAINABILITY
This follow-on course is designed to give students a broad understanding of the many elements that relate to sustainability in Travel &Tourism destinations, transportation, accommodation, food and entertainment/activities.   Click here to see the cover and first pages of the course text.  There are activities that teachers can assign to help students further understand the concepts and relate them to their own communities.
Linked to this course is an on-line competition, co-sponsored with UNWTO.  The 2018 competition will be available through this website in January 2018.  The results of the 2017 competition are included  here.
Student Certification
Students who master the material in PASSPORT TO THE WORLD are eligible to receive the PASSPORT TO THE WORLD CERTIFICATE OF ACHIEVEMENT.  To earn this certificate, students must complete a portfolio of work that demonstrates  competencies, including knowledge of the subject matter,  skills, and a professional work ethic.
The Institute of Travel & Tourism (ITT), the UK's leading travel professional society, and the World Travel & Tourism Council (WTTC) have endorsed this certificate.
These endorsements are important for GTTP students.
Dr. Attila Horvath, Director, GTTP Hungary:
"An ITT-endorsed certificate will provide the students from Hungary with new opportunities for learning and working abroad in the EU. It also offers employers an internationally approved basic qualification based on a well established and quality assured educational program."
Essie Gardner, Director, GTTP Jamaica:
"Tourism is the lifeblood of the Jamaican economy, and Jamaican students are always looking to improve their knowledge and skills to enable them to meet and exceed international standards of service excellence. Certification from an organization like the ITT means a lot to the Jamaican learners as both industry and academia will further value the skills honed through PASSPORT TO THE WORLD. ITT certification will provide a fillip to these learners in a highly competitive field, whether to enter the workforce or higher education."
Dr. Nina Kuznetsova. Director, GTTP Russia:
"While Russia's becoming a part of the global economy it's important that Russian youth is encouraged, inspired and prepared to successfully participate in the dynamic and emerging Travel & Tourism industry according to world standards. Being certified by internationally established institutions and entities is opening their potential and allowing them to gain skills and attitudes needed in a modern society."