Passport to Sustainability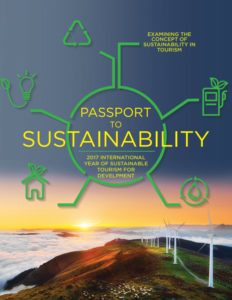 This follow-on course is designed to give students a broad understanding of the many elements that relate to sustainability in Travel &Tourism destinations, transportation, accommodation, food and entertainment/activities. Click here to see the cover and first pages of the course text. There are activities that teachers can assign to help students further understand the concepts and relate them to their own communities.
Linked to this course is an on-line competition, co-sponsored with UNWTO. The 2019 competition will be available through this website in March 2019.