GTTP Research Competition & Award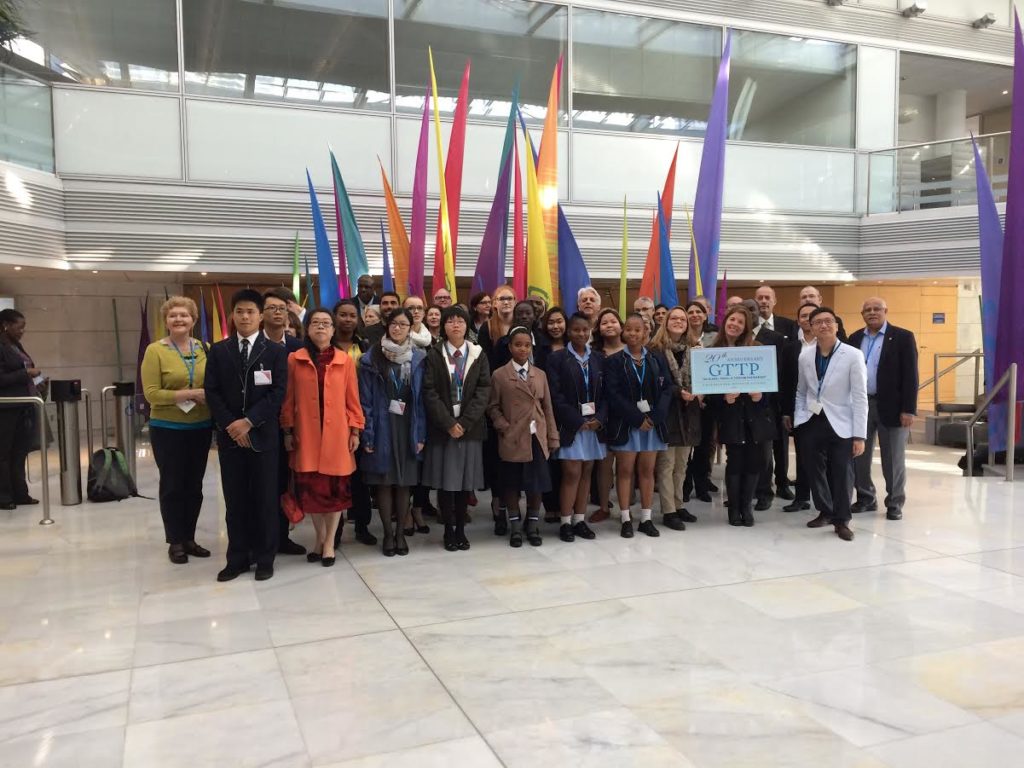 Background
Why A Competition?
Each year the GTTP holds a competition for the best school research project. Research topics are selected by GTTP Country Directors. Working in teams, the students develop their research skills, analytical skills, and communications skills, all of which are essential for a successful career in Travel & Tourism.
How The Competition Works.
Each member country selects a winning team for the GTTP Research Award in their country. The winning school sends two students and their teacher to an international conference at Sophia Antipolis near Nice, France. At this meeting the winning teams present their research findings and meet students and teachers from all GTTP-member countries. They also will have the opportunity to meet the GTTP Global Partner Advisory Board members.These competitions require students to research a tourism-related topic by first using library materials and the Internet. This phase is then followed by the students interviewing people who have information relevant to the topic. The third phase is analyzing the information gathered and creating a written report or "case study," which includes a teacher's guide. The case study can be used by students and teachers everywhere. The fourth phase is the development of a presentation, based on their case study, that each team will deliver to an audience composed of the other winning teams and their teachers.
History Of The Competition
An endowment established in honor of Aldo Papone, former president of American Express Travel Related Services Company, helps fund the competition. Mr. Papone was a strong believer in tourism education and student creativity. When he retired, a fund was established in his name to support excellence and innovation in tourism education. The GTTP's share of the fund is used to support the research competition.
The topic for 2020 is "Community Tourism." 
As GTTP students already know, GTTP stresses the importance of looking at what the industry does through the eyes of the customer. After all, it is the customer who makes the industry possible.

All of you have seen this list before, which lists the eight things travelers do before, during, and after they go on a trip. They are:

— Obtain Information.
— Select a destination.
— Make Reservations.
— Use Transport.
— Use accommodations.
— Eat food.
— Participate in entertainment and/or activities.
— Share the experience.

The list is also a way of summarizing what this giant industry does to make a living: it makes travel-related information available; offers destinations to choose from; provides a way to make reservations; offers transportation choices; accommodation choices; food choices, entertainment and activities. The tourist comes back home with a lot of experiences to share.

The focus of this year's research, community tourism, covers a number of these steps.
Before You Begin Your Research
Be sure to read the article on How to Write a Good Case Study in the Guidelines for the Research Award.
Initial Information Sources
https://www.wttc.org WTTC (The World Travel and Tourism Council) is probably the single largest source of reports on the economic and social impact of the industry. It publishes 24 regional reports, 184 country reports as well as a global report. It also publishes important reports on major issues that affect the industry and organizes conferences.
www.travelmole.com TravelMole.com and TravelMole.TV publish 15 enewsletters and broadcast videos to over 450,000 travel & tourism industry professionals and subscribers as well as 30 million consumers in 132 countries.
www.skift.com Skift means "shift" or "transformation" in the three Nordic languages. This online publication's mission is to be "the daily homepage of the global travel industry." It offers news, research and opinion, specialist newsletters, and organizes industry-related conferences.
http://gttp.org/partners/ Go the GTTP website and see what our Global Partners are doing; they are all involved in some way with supporting events.
Previous Research Topics
The topic for 2019 was "Events Tourism." The 2018 topic was "Innovation in Tourism." The topic for 2017 was "Bleisure" Travel. This is a category of travel that describes travelers who are able to able to take business trips and add a day or two for leisure activities before returning home. The topic for 2016 was "Heritage Tourism"; in 2015 it was "Sustainable Adventure Tourism," and in 2014 it was "Technology and Sustainability."
Before You Begin Your Research be sure to read the article on How to Write a good Case Study in the Guidelines for the Research Award.
NOTE TO STUDENTS: Do not borrow images from the Internet unless the website states clearly that you may use the images. Taking images without permission is called "copyright infringement" and can result in expensive financial penalties. GTTP will remove images from case studies if it believes there may be a copyright problem.