October 14, 2014 – Students from South Africa, China and Hungary took the top photos in the 2014 Photo Competition. First place went to Chanté Robinson, South Africa. Regina Dudás  from Hungary was tied for second place with Hanzhi Lu, from China. The entries this year were outstanding, and judges had a difficult time selecting the winners. They all show places you'd want to visit on your next trip!
First Place – South Africa, White Lion Yawning by Chanté Robinson. Judges noted: "The picture is professionally framed with the main subject on the right side instead of the center,  thus attracting the eyes. The definition is perfect, one can see all the details of the face, the mouth, one can count each hair of the moustache , and the lion is looking at me and tells me "Beware I am watching you."
Tied Second Place – Mystery stairs in Budafok, Budapest, Hungary by Dudás Regina. Judges noted:  A perfect picture. Everything is important, essential: the light, the leaves, the stones,  the hand bar, the tree. All the details  make this picture so poetic but scary at the same time; one thinks about a Conan Doyle novel or better Edgar Poe…
Tied Second Place – China, Pingshan in Anhui Province. The local houses and buildings represent the unique and abundant local culture. By Hanzhi Lu. Judges noted: It is a Cezanne painting… Bravo! Very interesting angle, composition excellent.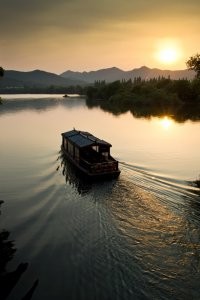 Third Place 
– China, A sunset boat ride on West Lake, Hangzhouby Chen Cong. Judges noted: I can't explain why,  but I love this picture. I love the 3 levels of landscapes, the perfect light, the delicate movement of the boat on the water, the sweetness of the moment. It perfectly describes what West Lake in Hangzhou is, a place for poetry.