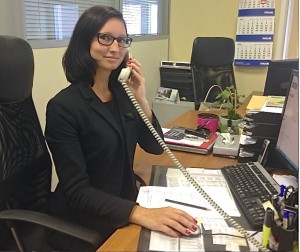 Maria Bykova is 25 with a job that is a little like a car: lots of moving parts.  Her role is "Sales Manager, Groups & Events" for the Hotel Baltschug Kempinski, a Five Star hotel in the center of Moscow. The establishment is part of the Kempinski group, which owns or manages 75 luxury hotels, mostly in Europe and Asia.
Maria deals with companies planning to hold events at the hotel, such as all-day conferences, board meetings, breakfast meetings, training sessions, awards ceremonies, cocktail parties, or team building. Clients come from all over the world and naturally have high standards given the hotel's 5-star rating.
"When planning an event, clients will visit us for a site inspection. I show them the hotel and describe our advantages in comparison to other hotels," explained Maria.
"After their visit, I send our offer via email with all the information. Then I call the client to check if our offer is received and if there are any questions.
"If everything is confirmed, I discuss all the details with the client, such as the set-up, timing, and menus.
"A week prior to the event I send a function sheet to all involved departments. Then a day in advance I pass all the information to the banquet department and they are in charge of the client on the day of the event.
" When the event is over, we close it with the accounting department and invite the client for feedback. If there are any issues, we want to know about them in order to prevent similar things in future and to maintain a high level of luxury service."
Clear, comprehensive, and accurate communications is vital to Maria's work, and indeed practically any job in the tourism industry.  That is why the GTTP emphasizes activities that require practicing communications skills, such as the Student Research Competition.
It was representing Russia in the Research Competition Student/Teacher Conference near Frankfurt, Germany, in 2005, that led Maria to the hotel industry.
Attending the Conference was a turning point in her life.
"At that time I was thinking about a career in IT, but after the conference I realized I would rather work with people and that my knowledge of English and computers could be very helpful," said Maria.
"The students' Case Studies and the presentations were amazing. Everybody did their best presenting their countries and explaining what they could do to develop tourism which is very important for us all because it really brings people together. We experienced it first hand at the conference. There were students from different countries and it was exciting to learn about different cultures from peers – not from books or films," she added.
After she graduated from high school, Maria attended the Plekhanov Russian Economics University in Moscow, one of the top five business schools in the country. Here she earned a degree in Hotel, Restaurant and Tourism Management.
Along the way she had summer jobs for five years working for the Gulfstream Club, an operator of tours. She also spent a few months working in the visa application center that handles requests for visas by Russians travelling to Sweden and Norway before joining Baltschug Kempinski in January 2013. Her job was Sales Coordinator, specializing in groups and events.
By the end of the year she had been promoted to Sales Executive in the same group.  Twelve months later, in December 2014, she was promoted to her present job.
What are her career objectives?
"My short term objectives are personal growth and developing my working skills.  Longer term I would like to have a higher management position so I can influence how the hotel industry evolves to meet new customer needs," Maria said.
What advice would she give to people thinking about pursuing a career in Tourism/Hospitality?
"All I can say is that it is the most exciting career and it will always be in demand as more and more people are travelling now," said Maria.  "You will never feel bored because you meet a lot of new people while working."
"To do your job well you have to study hard at a college or university," she added, "and you must be careful about every little detail when dealing with people so as not to offend them by doing something which is absolutely appropriate in your country but can be quite the opposite in another one."
"You must develop cultural awareness to be a success," said Maria.