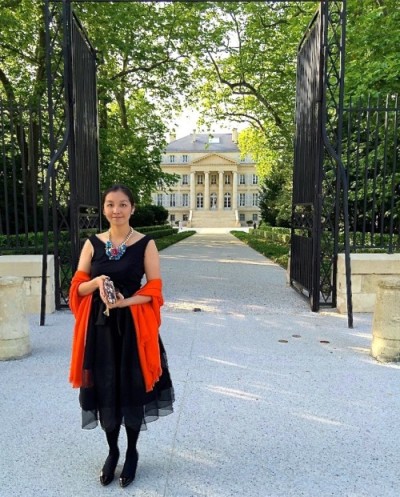 Interview with Katie Chong, a 2002 winner of the Global Travel and Tourism Partnership's annual student research competition, representing Hong Kong. 
Each year Katie Chong flies from Hong Kong to the Bordeaux region of France as a procurement (purchasing) manager for Jointek Fine Wines Limited, a key wine trading company in Asia.  Her mission: help choose which of the new vintages of some of the most celebrated, serious names in the world of wine would most appeal to her company's industry clients in Hong Kong and mainland China.
The vineyards Katie visits sound as if they should be set to classical music: Chateau Lafitte-Rothschild, Chateau Margaux, Chateau Latour, Chateau d'Yquem, and so on.
Her job includes conducting an initial evaluation of the wines. "Afterward, our management team gets together for tasting and analysis," said Katie. This is serious business with a lot of money at stake, not to mention her company's reputation.  But fun, too.  "What could be better than enjoying fabulous wines and/or good food during the business meetings?" she asks.
The road to the job that now takes Katie to Bordeaux each year started 12 years ago. She was 16.  The path she took emphasized hard work; extended exposure to very different cultures; learning communications skills; exploring the world of work, and the Travel and Tourism Industry, first with the Global Travel and Tourism Partnership (GTTP) and then in academia.
Katie participated in the GTTP Program in her high school*. She and a fellow student Yen Li won a place to represent Hong Kong at the international GTTP competition in 2002. This took her to the annual student/teacher conference in Nice, the town in France that is one of the birthplaces of European tourism. Fellow competition winners from the Americas, Europe, Asia and Africa also were there.
"The GTTP competition was the first time I was in touch with students around the world, and it opened my eyes to all those other cultures. I believe that was the start of my interest in travel," Katie explained.
Katie's next stop on the road to Bordeaux was Carbondale, Kansas, a three-hour drive from the geographical center of the United States and a long way from home. Katie was an Exchange Student for the 2003-2004 school year.
After Kansas, Suzhou, more than 11,000 air km (7,000 miles) away in Eastern China, awaited her. There she attended the China campus of Australia's Blue Mountains International Hotel Management School.  After graduating, Katie worked in a Shanghai hotel for a year and a half in food and beverage and the front desk, putting to work what she had studied.
Then it was time to go back home. Back in Hong Kong she made a 3 1/2 year detour into banking, working full time for a bank while also studying to earn her Bachelor of Business Studies from the National University of Ireland. She was a top student. But banking was not for her.  The Travel & Tourism was.
"This industry is full of challenges and competition," said Katie.
Now she works for Jointek, a wine importer that supplies hotels, restaurants, private clubs, nightclubs, supermarkets and retail stores. The company also operates about 100 of its own wine stores in major Chinese cities.
"I started work there in July 2010 as the personal assistant of the vice president responsible for procurement and sales," said Katie.  As a personal assistant Katie's abilities and work ethic were demonstrated to her boss on a daily basis. That visibility helped her get promoted, explained Katie.
Traveling to France is just one part of her job. She is also involved in working on the company's monthly special offers, new product launches, wine dinners and wine tastings and other promotional activities.
"I enjoy the people I meet from different cultures. The most important thing is that I love to share – share the experience, the food I like, the wines I tasted," said Katie.  She is focused on learning all aspects of her business, and her employer encourages her.
It is difficult to underestimate the influence that the GTTP has had on Katie's life.  "After the GTTP's student/teacher conference in France, I found myself become more outgoing, more willing to take on challenges. Seemingly impossible things, like being selected for the GTTP Conference, can be possible."
What advice will you give people who want to pursue a career in the industry, Katie was asked.
"Try it before judging. It may not be easy but you will have so much fun in it!"
* To see the teenage student work that led to Katie's career, click on "GTTP Research Competition and Award," then click on Archives, then scroll down to 2002-Hong Kong. The research presentation is about Hong Kong's "Walled Villages," part of the country's rich cultural heritage. Katie was a student of the Lok Sin Tong Young Ko Hsiao Lin Secondary School.