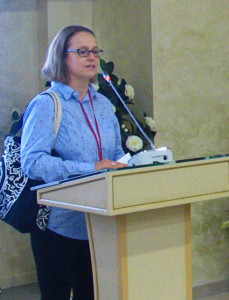 ---
On Jan 26th this year, my boss, Natalia Morozova, General Manager for CWT Russia, forwarded me a letter with the subject "GTTP Russia 20th Anniversary event February 16 and 17" with her comment: "FYI, let's talk later."
The subject was represented by a chain of emails that started from the one by Dr. Nancy Needham to GTTP Board Members (among whom was CWT Head of Responsible Business Françoise Grumberg) about the GTTP 20th anniversary event in Moscow. At this event run by GTTP Russia, students would be given a challenge and a limited amount of time to develop a viable business concept related to Heritage Tourism. She was looking for support from GTTP Industry Partner employees to serve as volunteer advisors to the students as they developed their ideas into a concept paper on the first day and to judge the teams and select the winners on the second.
As it often happens, Nancy's e-mail found its way through corporate communication channels first to Anne Esling,  EMEA HR Head for CWT, then to Walter Ruggli, CWT Business Head for Switzerland and Eastern Europe, then to Natalia Morozova, CWT GM for Russia and ended up in my mail box.
I am HR head for CWT in Russia and at that moment I was swamped with end of year activities: performance appraisals, goals settings, compensation reviews.
Never had I thought the email that looked like more work than fun would develop into a wonderful experience of meeting great people and taking part in a great event.
Step one was to get some understanding of what was that required of us. I got in touch with Dr. Nina Kuznetsova, who represents GTTP in Russia, and learnt more about the Global and Travel Tourism Partnership, a multi-country educational program to introduce students to career opportunities in Travel & Tourism with half a million students in thirteen countries, supported and sponsored by leading international companies – Carlson Wagonlit Travel, Amadeus, American Express, Delta Airlines, dnata, Enterprise Holdings, Eurostar, The Hertz Corporation, Hogg Robinson Group, KDS, Starwood Hotels & Resorts, and Travelport
At the First Stage of the GTTP Research Competition students would work in teams of five under very tight deadlines in order to develop and present a solution for the tournament challenge related to Heritage Tourism. The challenge would be revealed on the first day of the competition (February 16th), and teamwork would start.  The students would develop their solutions (ideas and concept papers) during the rest of the day.  On the 2nd day (February 17th) teams would present their solutions to a panel of judges and their peers.
Nancy and Nina wanted some volunteer – experts from CWT for Day 1 and judges for Day 2.
I spoke with our CWT Russia Leadership Team about the event asked for volunteers. I presented it as a wonderful opportunity for our employees to go out there and share their knowledge and expertise – a great development opportunity, indeed.
Since Moscow was going through a bout of 'flu some people who volunteered fell victims to the illness, but they were promptly replaced with others.
On Feb 16 our team of 10 people arrived at the event.  Olga Dolgova, Elena Solovieva, Alla Lapina, Natalia Nedashkovskaya, Anastasia Andreeva, Olga Fedorova – from CWT Travel Services,  Nadezhda Sizova from CWT M&E,  Yulia Agashina from CWT HR, and  Albina Golikova from CWT legal were right on time to share their expertise and knowledge with GPPT students.
We were met by Nina, who gave a warm welcome and briefing. It was also nice to get to know our fellow travelers from Travelport.
We split in teams of two and met up with students.
Personally there were three things that struck me as interesting: 1) real appreciation of local heritage places by all participants 2) not very clear understanding of challenges to put some projects into practice (I am saying it only because I am over 40 and not a dreamer any longer 🙂 ) and 3) difference in business acumen between school and university students.
Nadezhda Sizova, CWT Russia Sales Manager, said:
"I was invited as a Business Travel Expert to help students with projects, share my opinions and ideas. Before taking part in the event I was not sure why rich and successful people do teaching.
Now I can say that it was a wings-growing experience. Open, positive, talented kids are our future. There were a lot of great projects. The one I liked most – tour of Russia's Caucasus for people with hearing difficulties."
Anastasia Andreeva, CWT Russia Travel Services Outplant Superviser shared:
"I understood the objective of the event as identification of young talent, and an attempt make young people think and act independently.
I totally loved the way it was organized, and of course I loved the kids."
On day 2, three CWT reps joined the jury panel and spent the whole day reading through the briefs, observing live presentations.
We had a difficult time selecting the best three, as all were great.
All in all it was really positive experience for us. We loved every minute of it. By Feb 18th everyone in CWT Russia knew about the event.
And I am sure that for any future event Nina will have to do a casting among CWT volunteers.