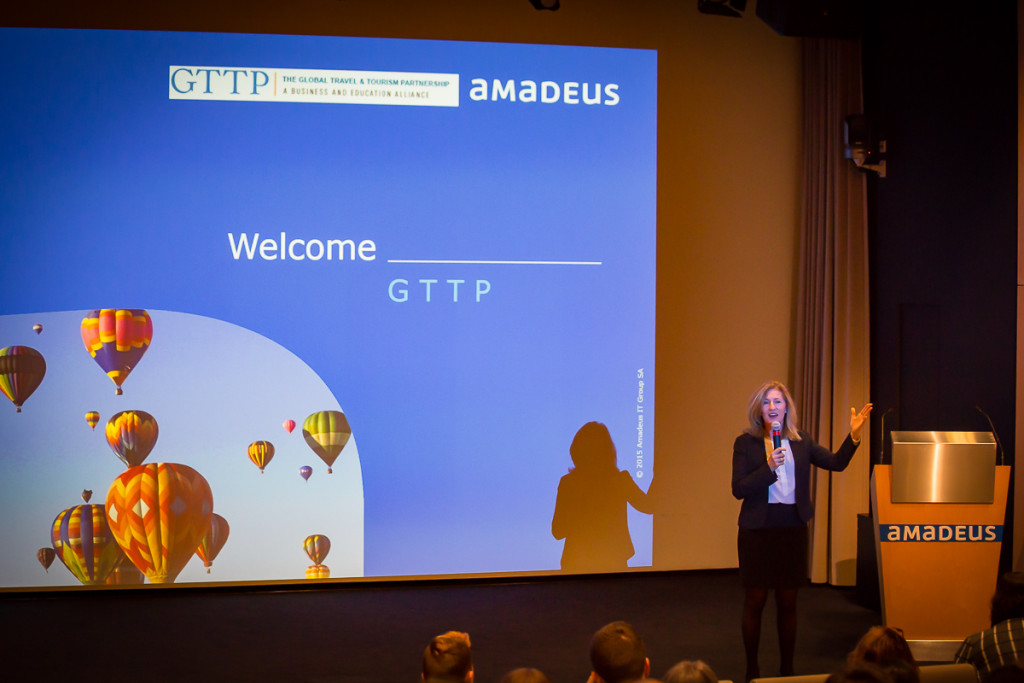 By Elizabeth Aston, Advisor, Industry Affairs, Amadeus IT Group (pictured)
Reprinted from the  Amadeus blog with permission from Amadeus.
The future of the travel industry is in good hands if the recent Global Travel & Tourism Partnership (GTTP) conference held at the Amadeus research and development centre in Sophia Antipolis  last month is an indicator of times to come.
Student teams from hundreds of schools competed to represent their countries at the conference, but only 22 students from 11 GTTP member countries were selected to present their research findings on 'Sustainable Adventure Tourism'. The up and coming travel industry leaders were tasked with investigating whether adventure tourism has a strong attraction for visitors to their country, and what further sustainability actions should be adopted by the market, using local travel industry role models as case studies.
The students presented topics across a broad spectrum of sustainable adventure activities ranging from high tech outdoor activities in Hungary, to paragliding in Jamaica, to tropical rain forest bio-diversity activities in Kenya and to the Russian project "accessible cycling tours" based on real student needs at their college on the Volga River.
Students from Brazil (pictured above) presented an especially interesting project focused on the award winning Park of Dreams, which not only ticks the three pillars of sustainability, but goes beyond to include accessibility as a key differentiator. All the facilities, rooms, and adventure activities are fully adapted for accessibility, including the zip line and white-water rafting. Not only is all their food organic and grown on site with a full organic waste programme (including a worm farm!), they even recycle old materials for art on the walls and reuse old objects for new purposes e.g. an old door becomes a table!
As in previous years the high level of English language competency, the extensive research conducted, the presentation and animation skills and general humour of the students did not fail to impress.
The students always present each other with gifts from their home country and there was a very touching moment when one of the students from China presented all the attendees with hand-painted silk fans painted by her father, who is an artist.
For many of these students it was their first time travelling outside of their home country, but judging by the high quality of their work, their confidence and ambition, it certainly will not be the last time. With such clarity and vision we should feel comfortable that the future of travel is in good hands indeed.
The GTTP educates secondary and vocational school students about careers in travel and tourism in more than 5,600 schools around the world. As a GTTP Global Partner, Amadeus hosted the conference. Starwood Hotels & Resorts, another GTTP Global Partner, provided meals and hotel rooms at Le Méridien, Nice, while Delta Airlines donated air travel tickets for the students and teachers.